Baptisms are a milestone day in many people's lives and are often celebrated with a grand party.  Such a celebration allows friends and family—many of whom have traveled long distances to attend—to join together to share in the joy of this special occasion.  Naturally, some thought and planning for appropriate invitations, decorations and refreshments is needed to ensure a successful party.  Jennifer Carver, of Spaceships and Laser Beams, is sharing her helpful hints on accomplishing a memorable baptism celebration.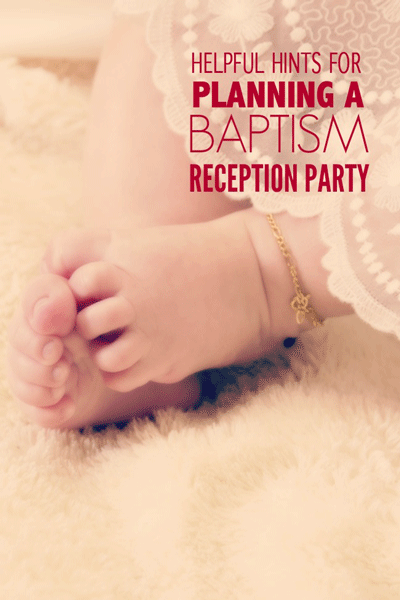 When baptism party planning commences, making a guest list is paramount.  On such a momentous occasion, forgetting to invite an important guest could ruin the day.  Plus, knowing your potential attendance numbers will help you in executing other crucial steps in the planning process, like sending out invitations, choosing a venue and selecting a menu.
Once your guest list has been finalized, choose an invitation that captures the beauty of the occasion.  Many people enjoy including a photo of the guest of honor, transforming the invitation into a beautiful keepsake.  Be sure to send out invitations at least 6-8 weeks in advance so that those who must travel to attend have plenty of notice to make necessary preparations.
With the baptism ceremony time in mind, make decisions on where you would like to host the post ceremony celebration.  It is customary for the party to occur almost immediately following the conclusion of the ceremony.  You will want to consider the size of the venue, the atmosphere and the proximity to the ceremony site.  You will also want to keep in mind any restrictions the venue has regarding food, drink and decorations.  Some popular locations for baptisms include an intimate home setting (your own or that of a friend or family member), the church where the ceremony took place, or a restaurant.
Decorating for a baptism party can be elaborate or simple.  The décor items can take on religious symbolism or be kept to more traditional party fare.  Assuming the celebration will be held right after the baptism, keep in mind that decorating will need to have occurred prior to the baptism.  Often, soft shades of pink or peach are chosen for little girl celebrations while pastel colors of blue or green make a nice choice for boys.  White is a very wonderful choice for either gender.  Add pops of color to refreshment or dining tables with colored dishes, linens or chargers.  Accent the tables with framed pictures of the guest of honor, beautiful flower arrangements and place cards for seating.
Planning for food is another important part of a baptism celebration.  Consider the time of day you will be celebrating, the number of guests attending, and any dietary restrictions.  A morning celebration requires substantially less food than an afternoon or evening soiree.  Donuts, coffee cake, pastries, yogurt parfaits and fresh fruit are excellent offerings for a brunch or breakfast party.  Items can easily and neatly be served buffet style on trays, cake stands and platters.  If you will be celebrating in the afternoon or evening when appetites tend to be a little greater, a more substantial menu should be selected.  Some ideas include finger food appetizers, breads and rolls with sandwich fixings, salads, soups, and dessert.  These larger meals could still be served buffet style.
Keeping these helpful hints in mind, you are sure to plan a successful baptism party enjoyed by all.